Transcend microSD (Standard)
Description
Aimed at heavy mobile users of cell phones, eBooks, tablet PCs or portable gaming consoles, Transcend's microSD card is the most economical memory expanding solution to increase the amount of storage space for expandable mobile devices.
Features
Mechanical write protection switch on adapter
MicroSD adapter allows it to be used in standard SD Card slots
Built-in Error Correcting Code (ECC) to detect and correct transfer errors
Exclusive RecoveRx photo recovery software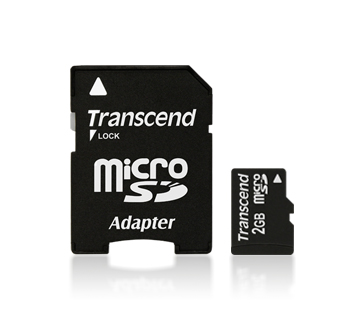 Size
21.5mm x 20mm x 1.4mm
Op. Voltage
2.7V~3.6V
Op. Temperature
-25°C (- 13°F )~ 85°C (185°F)
Durability
10,000 insertion/removal cycles
Weight
0.4g
Warranty
Limited Lifetime Warranty*
*Please access here for more information about Transcend Warranty Policy.
Order Information
1GB
TS1GUSD

with adapter

TS1GUSDC
2GB
TS2GUSD

with adapter

TS2GUSD-2

with 2 adapters (miniSD & SD)

TS2GUSDC
Specifications