IoT and LoRaWAN modernize livestock monitoring
Cattle Traxx incorporates ruggedized IoT sensors, LoRaWAN mesh networking, geofencing and cloud-based analytics to improve livestock monitoring
Network World | Sep 15, 2016 10:09 AM PT | Deepak Puri

With each head of cattle costing more than $2,000, care for the herd is important. Tracking individual cows moving over large areas is challenging, though, especially when they all look alike. Harsh farming conditions and limited budgets add to the technical hurdles.
Cattle Traxx, which recently exhibited its system at TechCrunch Disrupt, has an answer. Livestock monitoring that includes an IoT solution of ruggedized sensors, LoRaWAN mesh networking, geofencing and cloud-based analytics.
Solution design

Sensors

Ruggedized sensors that last over five years and are encased in waterproof cases to cope with dirt and rain.
The sensors are battery powered and automatically recharged from a built-in solar panel.
The sensors use LoRaWAN (Low Power Wide Area Network) for communication to transmit long distances with minimal power consumption.
Built-in IDs are mapped to the cow fitted with the sensor.
Communication
Sensors on the cows automatically form a mesh network, extending their collective transmission range. Each ear tag (sensor) has a transceiver that transparently sends and receives data packets from sensors on other cows in the mesh network every 15 minutes.
The ear tag sensors automatically form nodes in the mesh network. A cow's location is relayed across the mesh network to a field-based LoRaWAN gateway. These gateways are battery powered and fitted with solar panels for recharging. Each farm typically will have three or more such gateways to provide better coverage and enable triangulation to pinpoint a cow's location.
Field-based gateways can signal nine miles to an office-based gateway server.
LoRaWAN network architecture is typically laid out in a star topology. Ear tags are the end devices and use single-hop wireless communication to one or many field gateways. Field gateways relay messages from the end devices to an office gateway server via standard IP connections.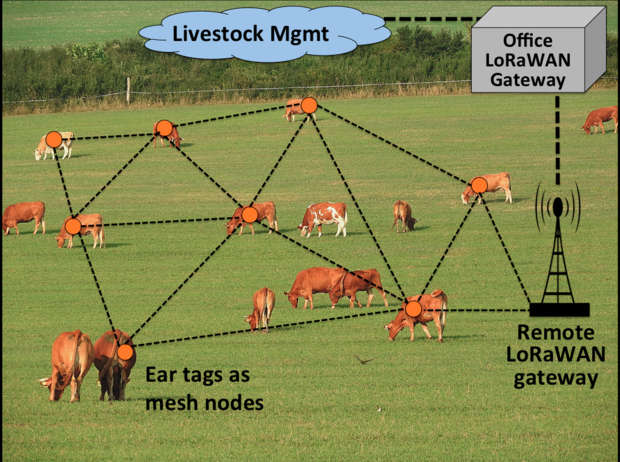 Office gateways transmit sensor data to a cloud-based livestock monitoring system for reporting and analysis.
Exception reporting alerts the farmer when a cow's movements indicate there may be a problem. A mobile app alerts when cattle have strayed past the geofenced area.
Historical movements of cows is stored for better pasture management.
How Cattle Traxx helps farmers

Farmers take better care of their livestock with Cattle Traxx. An online monitoring console tells them where each cow is and what it's doing. Operating costs are reduced, as reports on grazing, migration and nightly sleeping habits identify cattle that may need attention before they fall sick.
Geofencing
Geofencing involves defining a virtual perimeter for a real-world geographic area, such as a grazing field. The Cattle Traxx location-based service (LBS) alerts farmers when cattle exit the area that has been virtually fenced.
Industry resources
MultiTech—Communications equipment for LoRaWAN IoT systems
Senet—Provides long range LoRaWAN connectivity solutions
LoRa Alliance—A non-profit association promoting LoRaWAN-based solutions
Dairy cows move slowly, but with Cattle Traxx's IoT livestock system they're definitely up to speed.