IEI Smart Transportation Solution: Enhancing Efficiency and Safety for Various Transportation
IEI has for decades been dedicated to industrial automation. IEI smart transportation solutions focus on railway, vehicle, and marine intelligent solutions. Smart transportation helps enterprise and people to improve efficiency during the journey from varied data acquisition, analysis, and precise prediction.
eBus Solution
IEI has a total solution for multi-vehicle monitoring and dispatching system, allowing enterprises to track vehicles through the system, and to prevent loss of goods in transit. We combine all commu nication system and fleet management with our IoT solution to help enterprises on tracking their goods through electronic maps, internet access, and mobile communication system with 3.75G/Wi-Fi/Bluetooth/GPS/RFID in real time and into safety.
In-Vehicle: IVS Series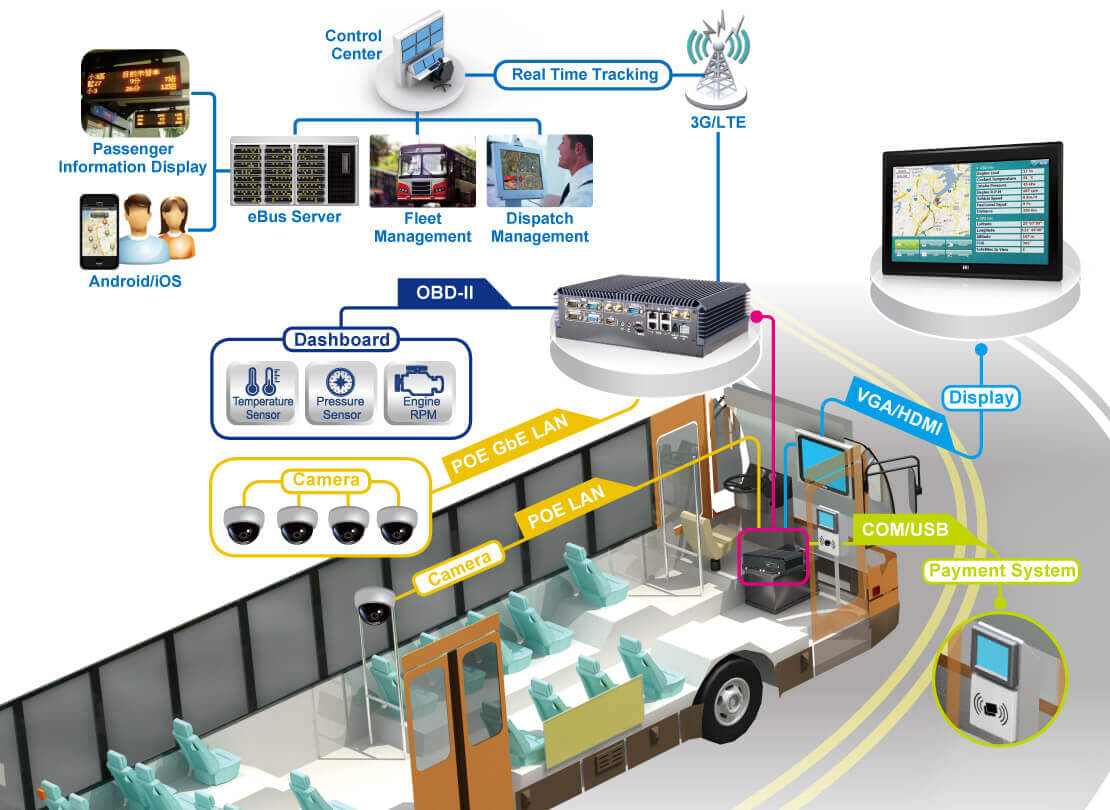 Application Story
The IVS is designed with reliable performance for harsh environments. Our in-vehicle systems can be used in different applications without any limitation such as bus, taxi, and truck. IVS is built in with OBD-II function so that it can be used to check the vehicle status. In the other side, you can connect four IP cameras through the PoE ports for surveillance. Furthermore, with real-time streaming NVR (Network Video Recorder) logs, critical moments can be recorded when accident happens, therefore enhancing safety of drivers and passengers on the move. IVS is integrated with GPS module, allowing users to track the bus and identify its location quickly.
Railway System Solution
IEI railway system (IRS) series is compliant with the EN 50155 standard and meets the requirements for railway environments. The IRS-100 has multi-function capability, making it not only a surveillance system but also an entertainment system, such as control unit, passenger information system (PIS) and network video recorder (NVR). Among these technologies, using IP cameras for surveillance application is getting popular.
Rolling Stock Solution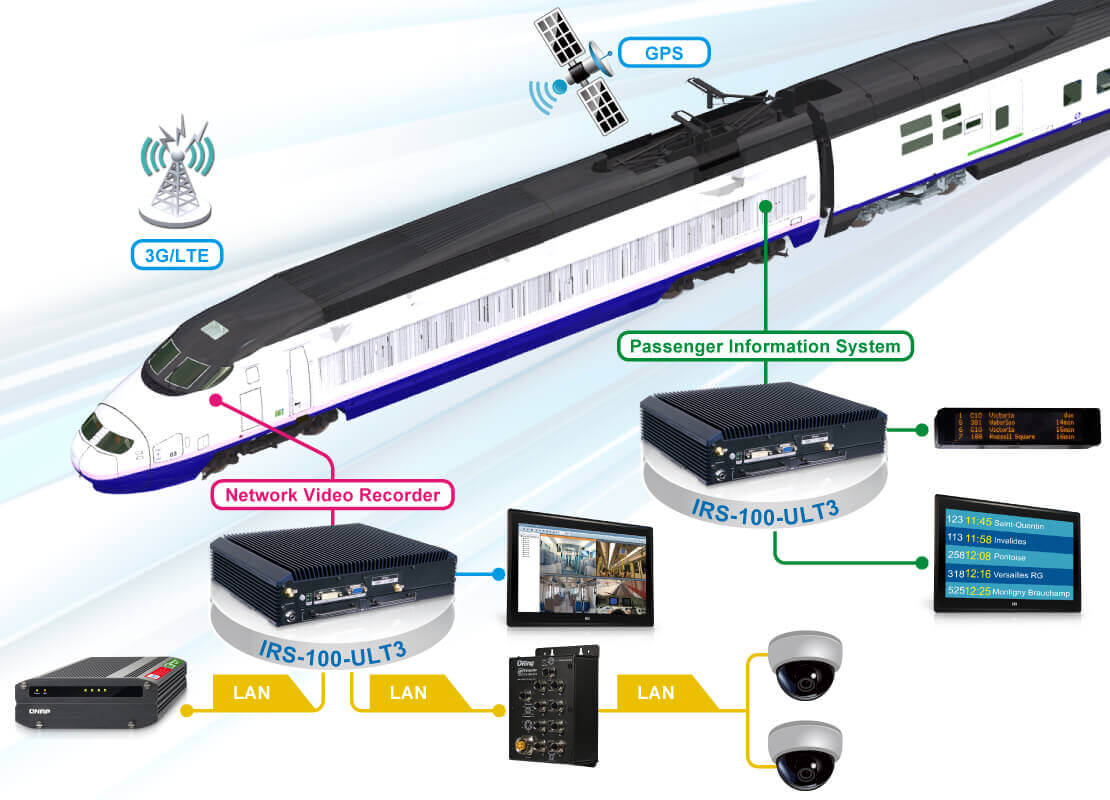 IRS can connect PoE switch to IP cameras for surveillance application and provide real time video monitoring to ensure passengers' safety. IRS installed with GPS/3G module can be used as train control system for data collection. It can deliver real-time information from the surveillance system to the control center while sending messages to the passenger information system. Through our IRS, Passenger Information System can instantly display information on the screen. Therefore, our railway solution can easily fit your future demands.
Application Story
The passenger information is getting popular and Indispensable. IEI embedded computer, you can easily build feature-rich embedded system for industrial, medical, military, transportation applications. The IRS Series combines passenger information system (PIS), network video recorder (NVR) for surveillance and data transmission for remote control into one powerful, integrated system.
Marine System Solution
The maritime field faces critical environmental challenges, therefore the reliable and rugged systems is essential. IEI provides professional marine-grade embedded box, panel PCs and monitors with leading technologies and industrial grade materials which are perfect for applications on the dock, on the open deck, or in the control room or bridge. Considering various and complicated marine environment and real applications, IEI introduces a total solution from harbor to ship which provides customers a reliable environment.
Application Story
The high performance and fanless marine system helps bridge monitoring and managing the engine. With the support of remote hardware status monitoring-IRIS, most of problems can be solved remotely and save IT personnel lots of time.
Marine System Solution – Monitor
Our Marine grade LCD displays with aluminum enclosure are suited for the harshest environment. With IP66 front water , resistant, Available in various size from 19" ~ 24" for Marine Chassis and Marine Panel Flush enclosure.