IEI Product News: IEI Smart Agriculture Product Selection
Based on big data analytics, smart agriculture uses a variety of sensors to collect data to meet industry needs. Data-driven decisions and actions are used to reduce the workload of agricultural workers and to increase yields.
Agriculture

---

Key data :

Temperature
Sunlight
Soil composition
Soil moisture
Soil pH

---

Application :
Differing from the traditional regular watering manner, we can now utilize technology to monitor soil moisture. When the soil moisture reaches the pre-set value, the watering system will automatically turn on to moisten the soil as needed, saving lots of water and manpower.

Animal husbandry

---

Key data :

Livestock body temperature
Livestock activity
Feeding status


---

Application :
We can monitor the activity content of cows to accurately detect its estrus to have greater milk yield. Monitoring a cow's body temperature can help us estimate the cows' delivery time to reduce staff visits.

Fish farming

---

Key data :

Water temperature
Dissolved oxygen
Water quality

(NO2, NO3, H2S, NH4)

pH

---

Application :
Monitor the amount of dissolved oxygen in the water to set the aerator start-up time for saving electricity consumption. Monitor the change of water quality to take necessary actions, such as adding medicine or changing water.
Due to the large amount of data that need to be monitored, highly integrated computing devices are of utmost importance for the convenience of staffs.
IEI Product Selection for Smart Farming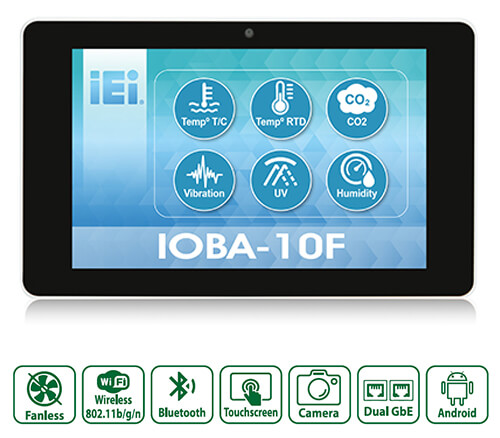 IOBA-10F-AD | 10.1" Android Panel PC

Features :
10.1" 1280x800 LCD
Project Capacitive Touch Screen
CPU: Freescale i.MX6 Cortex-A9 Quad-Core 1GHz
OS: Android 5.1
Grove Interface IoT Sensor connectors, POE 802.3at

Benefits :
The front panel conforms to the IP64 rating and is suitable for most agricultural work environments.
Farmers and livestock workers can operate the device as easily as smartphones, thereby preventing inefficiencies resulting from difficult device operation.
Rich input/output, including one RS-232 (grove interface), one RS-232/422/485, three analog sensor connectors (4-pin), three I2C sensor connectors (4-pin), three DIO etc. Suitable for most sensors.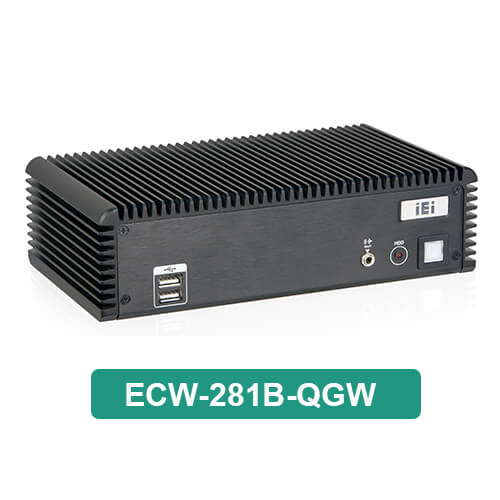 ECW-281B-QGW | Fanless Embedded System

Features :
Fanless system with Intel® Celeron® J1900 Processor
Supports four COM ports (three RS-232, one RS-422/485)
9~36V DC input support
Wide operating temperature: -20°C ~ 60°C with SSD
Pre-install QTS-Gateway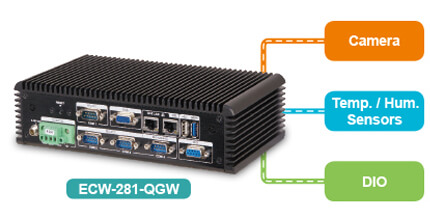 Agriculture Automation System Application

Irrigation monitor & control
Illumination monitor & control
Recipe selection & Schedule control
Benefits :
This system can help farmer to build an irrigation schedule system and to monitor plant growth from remote.
Farmers is able to create a watering mode based on data analysis and find out the best watering time by collecting long-term data such as air humidity, soil dampness, light, etc. QTS gateway can also help farmers to expand vegetable garden through successful date mode duplication experience and reduce human judgment.
About IEI:
IEI Technology Corp., a leading industrial computing service provider, integrates computing platforms and customization services. IEI supplies hundreds of industrial computer boards, systems and peripherals in thousands of customer applications, and supports OEM/ODM services thereby reducing customers' design time and accelerating product development to help customers advance beyond their market competition. IEI's new business unit, IEIMobile, focus solely on mobile and automation computing such as cloud computing, wireless networking and Internet of things. IEIMobile is a professional mobile solution provider, including tablet PC, industrial PDA and in-vehicle computing devices. The vision of IEIMobile is to provide reliable, ready-to-use and user-friendly mobile platforms.

For more information about IEI Technology and their products, please contact the Braemac CA sales team:
(510) 687-1000
This email address is being protected from spambots. You need JavaScript enabled to view it.